F.A.Q.
What do you sell? Unless otherwise stated on the product page, we sell well rooted cuttings of the fuchsias on this website. Occasionally we may offer plants in 7cm pots, these will be found as an option on the page featuring any cultivar for which they are available.
'How big are the cuttings when they arrive?' - Depending on cultivar, most cuttings will be between 2½" to 5½" (80-140mm) tall. They will be growing in 35mm plugs, note that cuttings of small leaved or slow growing varieties will be smaller than those of large leaved or fast growing ones.Some fuchsias are available for pre-order in 7cm pots - please contact us for information.
'How long will it take for my cuttings to be delivered?' - This varies according to cultivar chosen and availability. We do not guarantee delivery within a set period, we do our best to deliver as soon as we can. If you require your cuttings by a specific date please contact us before to placing your order. We post on Mondays to allow Royal Mail as long as possible to deliver before the weekend - generally they will arrive on Tuesdays or Wednesdays, though some don't turn up until Thursday and occasionally Friday.
'Do you provide information about how to look after my cuttings when they arrive?' - Yes, a care leaflet is included with every order, and we are available by email if you would like further advice. Also there are information leaflets downloadable from here, just click on 'Downloads' here or in the footer of any page to see what is available.
'What if my cuttings are damaged or lost in the mail?' - Ideally you need to send us photos of any damaged cuttings with the packaging they came in, by email if possible, so that we can replace them as soon as we can and afterwards claim reparation from Royal Mail. Don't worry about returning them, we just can't afford to replace cuttings and pay for postage without making a claim. We claim for lost cuttings using the email from you informing us that you have not received your order or that it was damaged.
'How much is postage?' Please see Delivery Information for shipping rates.
'Can I collect my cuttings and have a look around the nursery?' - Alas no, we really wish you could but unfortunately we don't currently have premises suitable or insurable for public access. cuttings can be collected from our house by appointment though, it's always a pleasure to meet customers, just let us know when you'd like to collect.
'Will my cuttings need further treatments with mycorrhizal fungi?' - Not generally, no. However, if ever your plant is badly damaged, either by by vine weevil grubs or some other infernal pest, and you find yourself re-potting it, it would be a good idea to apply more as you do so. A small packet of the fungi will last the average gardener a long time, and is well worth using whenever planting most types of plant.
What countries do you ship to? Please see International Shipping for international delivery destinations, prices and advice.
Do I have to order online? No.
Can I order by post? Yes. All you need to do is send us a list of the fuchsias you'd like, include your delivery address, phone number and a cheque for the plants and postage (you can find postage rates here, and send to us at Other Fellow Fuchsias, 25 Spring Meadow Road, Lydney, GL15 5LF. If you have included either your email address or your telephone number, we'll acknowledge your order on arrival and give you and order number and an estimated delivery date.
Can I order over the phone? Yes. Please call 01594 844452 to place your order. If you are answered by a machine, please leave your name and number (speak clearly, Nick's hearing isn't what it used to be) and we will call you back as soon as we can.
Can I order on line but pay by cheque? Yes – there is an option for this when you get to the payment stage during Checkout.
There's no minimum order. You don't have to create an account, or have a PayPal account to shop online.
How do I order?
Add your choice of fuchsias to your basket, adjust the contents if needed and Checkout when you are ready.


Enter your basic information such as your name, postal and email address


You can specify a delivery address different to your payment address if you wish.


Choose your preferred postage option, the total will be calculated for you.


Don't forget to mention any acceptable substitutes or special delivery instructions by typing these in the "Comments" field.


Click on continue to pay securely online. NB: We cannot access your bank or card details.


If you prefer not to shop online, but don't want to fill out an order form yourself, you can use your "shopping basket" instead of an order form. Print it after you have calculated the total including postage and then send it to us with a cheque or postal order for the total amount.


Please ensure that any phone number you provide as a contact for order queries will accept incoming calls, and that you have spelled your email address correctly.


Please make a note of your order number (you will receive an order confirmation email including it, to help with that), as it is a great help if you contact us with any queries about, or changes to, your order.


If you don't have an email address, don't want to use the shopping basket, or just prefer to fill in an order form yourself, you can download and print one by clicking on "Information", "Downloads" then "Order Form 2015 – pdf".
To look at fuchsias on our website, just click on "Fuchsias" and browse the different types to find what you want. Click on the picture or name of any fuchsia to see: information about it held under its "Description" tab, its Tags, and other basic information.
Most fuchsias have more information available under other tabs such as "Attributes" or "AFS Description". Just click on the relevant tab to see the information held.
You can also find fuchsias by:
using the search facility at the top of the page.
clicking on "Hybridisers" and clicking a hybridiser name.
clicking on "Tags" (to see what they mean), then clicking on any Tag to find fuchsias with that Tag. (You can also click on any Tag you can see when looking at a fuchsia.)
Please note that the tags feature is still under development, and will find more fuchsias as we continue to add and/or update Tags over time.
If you can tell us any more information about any of our fuchsias, particularly if you are the hybridiser, we'd love to hear from you.
Display List/Grid - The catalogue can be displayed as a grid (default) or as a list where the plants are shown in a single column with part of the description visible. In either view, clicking on the photos or names will open the page for the product, where all it's information can be seen.
Photographs - will enlarge if hovered over when viewing a product page, or will pop out as a much enlarged image if you click on Zoom in the bottom r/h corner.
Creating an account - you can shop as a 'Guest' or create your own account. With your account you can save an incomplete order to finish later, or you can compile a wish list of plants you would like and save it for later reference. Payment details are not saved.
Another advantage of your own account is the ability to track orders and enquire about them easily. Paying for orders is also much easier and quicker. All personal details supplied when creating an account are transmitted via secure SSL encrypted connection, to ensure your security and privacy.
Wish List is somewhere you can save the plants you might want to look at again or purchase in future. A wish list is also useful if you place an order, as you can ask us to refer to it if you want us to substitute any unavailable plants you have ordered.
What is meant by 'Reflexed', 'Recurved, etc in your descriptions?
An Illustration of Flower Shapes: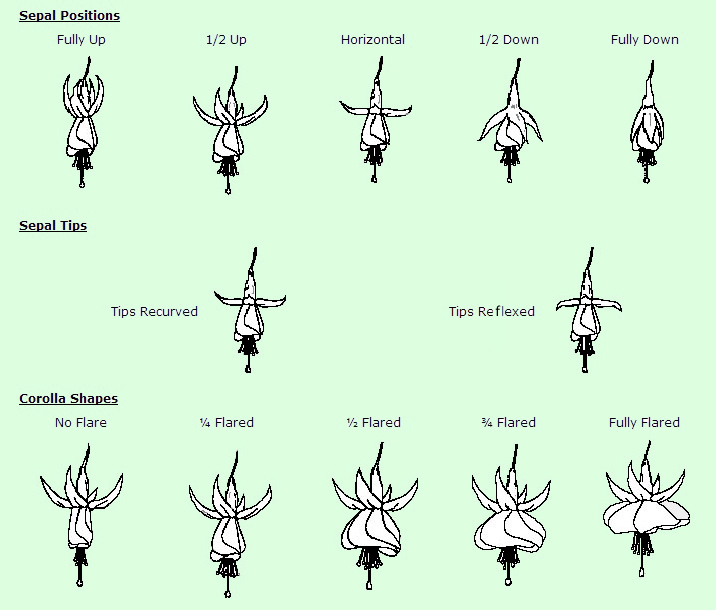 If you have queries not covered here, please click on Contact Us to find details of how to get in touch.
Back to top